Home

HELIGATOR.COM


My name is Peter and I'm happily married to a CPA with a 20 year old step-daughter. We live in a wonderful home in Goleta, a town just outside of Santa Barbara, CA. I work at the University of California as a health care programmer on the AVSS project. As one of the original developers, I help with the collection and management of all the birth and death certificate information in California.

Some of my other interests include ragtime piano, pinball, gymnastics, tennis, dancing, Scrabble, computer games, cribbage, travel, scuba diving, reading, movies, Star Trek, science fiction, Jonny Quest, chess, hiking, internet surfing, and now web-design I guess!



I've been interested in R/C helicopters for many years as evidenced by the early 90's Kalt Whisper electric helicopter pictured here. I tethered it to the ground and tried to hover it with limited success. That thing was just WAY too unstable for a beginner to learn on, but I was stubborn and decided to try anyways. After that, life just got in the way and I stayed interested but did nothing for many years after that.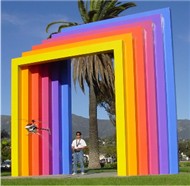 Then in the spring of 2001, I got serious about flying these things again and went to work finding out the RIGHT way to get these things into the air. I found the RunRyder heli forum on the internet and bought the RealFlight G2 R/C simulator. I was very determined and put in countless hours on the simulator while researching my first nitro heli, a Thunder Tiger Raptor 30. I had some problems with my original engine, but I got some expert help locally and eventually ended up upgrading it to a 50 size ship. Now, several helis later, I enjoy aerobatic 3d flying and am working on a scale ship.